Organizations are increasingly utilizing cloud object storage as the foundation for analytic initiatives. There are multiple advantages to this approach, not least of which is enabling organizations to keep higher volumes of data relatively inexpensively, increasing the amount of data queried in analytics initiatives. I assert that by 2024, 6 in ten organizations will use cloud-based technology as the primary analytics data platform, making it easier to adopt and scale operations as necessary.
However, few organizations are exclusively using cloud infrastructure. Many companies face significant challenges from data architecture that has grown and evolved over time – including siloed data and potentially conflicting and duplicative datasets – resulting in environments that
are highly complex and expensive to maintain and manage. In addition, most of these organizations are also experiencing a dramatic increase in data volumes and data sources due to digital transformation.
Cloud object storage can be used to consolidate data in a centralized data lake. Generating value from the stored data can be easier said than done. Combining analytic data platform functionality from providers such as Teradata with cloud data lakes can simplify and speed up data analytics processes and expand data utilization throughout the organization.
Teradata is an analytics software and data platform company that provides a multi-cloud data platform for enterprise analytics, allowing businesses to use data at scale. It enables organizations to integrate and simplify data and the analytics ecosystem, streamline access and management of data and use analytics to derive business value from diverse data types.
Teradata has been in the market for more than 40 years, and its longevity and focused expertise has made it a trusted partner for analytic data platforms, even as the number of rival offerings has increased in recent years. Teradata faces increasing competition from vendors utilizing the cloud to change the economics of data warehousing. It has by no means ignored the trend towards cloud-based data warehousing. The company's Teradata Vantage is its multi-cloud data analytics platform that operationalizes insights and enables descriptive, predictive and prescriptive analytics for autonomous decision-making. It integrates data from various data sources, tools, analytical languages and functions, including leading commercial and open-source technologies. The technology is available on multiple cloud platforms as well as on-premises on a virtual infrastructure and the company's Teradata IntelliFlex hardware platform. The latter was previously the primary platform used by Teradata's customers, tailor-made to meet the demanding performance requirements.
Recent years have been transitional for both Teradata and its customers as the company has been in the process of switching from perpetual to recurring revenue, and its customers have been in the process of embracing cloud-based consumption models. Teradata provides its products and services to customers in various industries including computer software, IT, banking, retail, manufacturing and finance. The company generated revenue of $1.92 billion in its fiscal 2021, up 4% on the previous year. Recurring revenue accounted for $1.46 billion of that total, and was up 12%. Public cloud annual recurring revenue was $202 million, an increase of 91%, demonstrating the company's opportunity to drive greater growth via cloud-based products.
Teradata recently announced VantageCloud Lake, a new version of Teradata VantageCloud built on cloud-native architecture. VantageCloud Lake enables users to access and analyze data in cloud object storage, independently scaling the compute and storage layers for improved efficiency. Positioned for ad hoc exploratory analytics use cases and departmental projects, VantageCloud Lake enables organizations to launch new projects across departments using centralized data and align compute resources across the platform, maintaining overall governance and cost control. It provides both workload management and workload isolation at scale.
Data and analytics continue to be a management priority for growing organizations. With a cloud-based database management offering, organizations can bring data together in a single location for analyses. As much of the data generated today is unstructured, organizations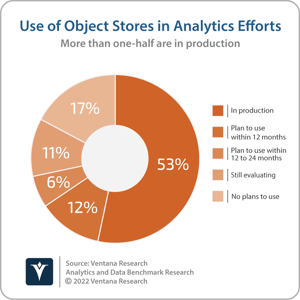 have increased use of object storage for storing static content, data archives and backups. More than one-half (53%) of participants in our Analytics and Data Benchmark Research already use object stores in analytics processes, while a further 18% plan to within 24 months. This highlights the importance of VantageCloud Lake to Teradata in demonstrating continued innovation and product evolution.
Teradata also recently announced ClearScape Analytics, rebranding its cloud analytics software for the operationalization of analytics and artificial intelligence and machine learning at scale. ClearScape Analytics provides in-database analytics functions designed to enable organizations to integrate machine learning into analytic pipelines. In addition to the new branding, the launch of ClearScape Analytics added more than 50 new in-database time series and ML functions as well as ModelOps capabilities for model management to enable organizations to scale AI/ML initiatives. As an independent data platform provider, Teradata continues to partner with business intelligence and AI/ML specialists but offers ClearScape Analytics as a value-add to enable users to accelerate analytics initiatives by avoiding the need to move data out of Vantage.
Teradata can be expected to continue to improve its analytic data platform, adding more analytics capabilities for advanced AI/ML projects. The company continues to be a trusted analytics partner for numerous enterprises that use Teradata's products and consulting to support data and analytic ecosystems and scale operations. As demand shifts to the cloud, Teradata is providing both platforms and expertise to help customers migrate on-premises data environments to cloud-based platforms. VantageCloud Lake is an important offering that provides a cloud-native architecture, enabling elastic scalability and support for object storage. I recommend that organizations considering options for analytic data platforms as well as analytics and AI/ML capabilities should include Teradata in the evaluations.
Regards,
Matt Aslett