Organizations across various industries collect multiple types of data from disparate systems to answer key business questions and deliver personalized experiences for customers. The expanding volume of data increases complexity, and data management becomes a challenge if the process is manual and rules-based. There can be numerous siloed, incomplete and outdated data sources that result in inaccurate results. Organizations must also deal with concurrent errors – from customers to products to suppliers – to create a complete view of the data. Many vendors, including Tamr, have turned to artificial intelligence and machine learning to overcome the challenges associated with maintaining data quality amid the growing volume and variety of data. I assert that by 2026, more than three-quarters of organizations' data management processes will be enhanced with artificial intelligence and machine learning to increase automation, accuracy, agility and speed.
Tamr offers ML-driven data mastering and enrichment for master data management. It was founded in 2013, based on research conducted by Massachusetts Institute of Technology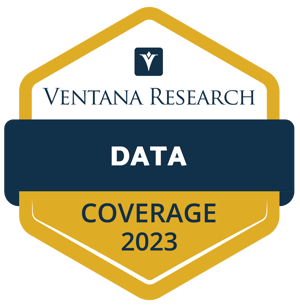 adjunct professor of computer science and engineering Mike Stonebraker to address the challenge of unifying and mastering large volumes of highly variable data. Tamr's software is designed to provide clean, consolidated and curated data, helping organizations break down silos, remove duplicate data and enrich records as well as combine internal and external data sources. The platform provides auto scaling, performance and security monitoring. It uses a combination of machine learning, matching rules and human stewardship to continuously clean and curate data, improving the efficiency of generating high-quality data. Tamr Cloud is its managed cloud system for master data and data quality management.
In addition to using ML to accelerate the management of large data volumes, another interesting aspect of Tamr is its data product templates and industry resources to accelerate adoption in key verticals and use cases. Data product templates include industry-specific schemas, trained models to identify and group similar and matching records, data enrichment, record consolidation rules and other management capabilities. It can enable organizations to publish clean, enriched, unified datasets to power analytics, data visualizations, business intelligence and other tools in various verticals, including healthcare, legal and use cases in business-to-business and business-to-consumer.
Tamr allows organizations to enrich managed data into existing applications such as enterprise resource planning systems, customer relationship management platforms, master data governance and data warehouses for broad consumption across an organization to create a single view of various business functions. Tamr supports cloud-native, cloud-based and hybrid deployments. By using the right tools and strategies, businesses can ensure that teams and data consumers across the organization have access to continuously curated, complete and updated data. This can enable organizations to enhance data quality and improve operational efficiency.
Unlike traditional data-quality software, which typically provides users with an environment to manually check and correct data-quality issues, Tamr is designed to automate the monitoring of data used for analytics projects.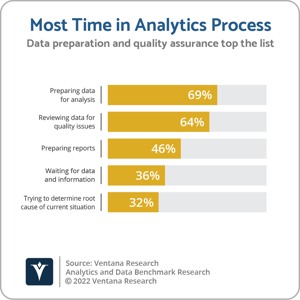 In addition to improving trust in data, this has the potential to reduce time to insight. Our Analytics and Data Benchmark Research shows that almost two-thirds of participants (64%) cited reviewing data for quality issues as being the most time-consuming aspect of analytics initiatives, second only to preparing data for analysis.
Tamr provides its products for various industries, including consumer packaged goods, energy and utilities, financial services, healthcare, life sciences and manufacturing. Customers are typically large scale with complex and strategic master data management initiatives. Tamr also supports the public sector, with government organizations including the U.S. Air Force, Army, Department of Homeland Security and federal and local government agencies. Organizations can utilize its platform to democratize data and analytics, enabling greater visibility into processes.
Master data management enables organizations to overcome data challenges. Tamr Mastering is its AI/ML-driven platform that uses ML algorithms to consolidate, clean and categorize internal and external data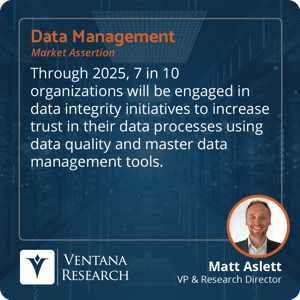 sources to enrich insights. Tamr Enrich is a low-code/no-code environment for curating and actively managing external datasets and services, enabling organizations to embed quality referential data into mastering pipelines. Tamer Mastering includes the Tamr Steward issue tracking functionality that integrates into analytic applications such as Tableau and Microsoft Excel and can be used to collect feedback on data and analytics. It enables organizations to replace human-intensive processes with machine learning, keeping humans in the loop, with a data management model that can scale as business grows. By using Tamr for master data and data quality management, organizations can become more efficient in data and analytics processes and increase confidence in data. It also improves collaboration among different departments and promotes data democratization. I assert that through 2025, 7 in 10 organizations will be engaged in data integrity initiatives, using data quality and master data management tools to increase trust in data processes.
Tamr should continue to invest in refining the platform for more advanced use cases in analytics. By using machine learning to clean data and integrate it into analytics tools and operational systems, organizations can improve business efficiency, productivity, return on investment and customer retention. Organizations looking for an AI-based solution for master data management and data quality should evaluate the capabilities of Tamr. It can enable organizations to automate repetitive operations, allowing businesses to perform tasks faster.
Regards,
Matt Aslett