Despite the emphasis on organizations being more data-driven and making an increasing proportion of business decisions based on data and analytics, it remains the case that some of the most fundamental questions about an organization are difficult to answer using data and analytics. Ostensibly simple questions such as, "how many customers does the organization have?" can be fiendishly difficult to answer, especially for organizations with multiple business entities, regions, departments and applications. Increasing volumes and sources of data can hinder, rather than help. Only 1 in 5 participants (20%) in Ventana Research's Analytics and Data Benchmark research are very confident in their organization's ability to analyze the overall quantity of data. This is a perennial issue that data and application integration vendors, such as SnapLogic, are aiming to address – increasingly through automation and products for business users as well as data management professionals.
SnapLogic was founded in 2006 by a team of executives with prior experience in the data integration and data management sector, including chairman and CEO Gaurav Dhillon, who previously co-founded and served as CEO of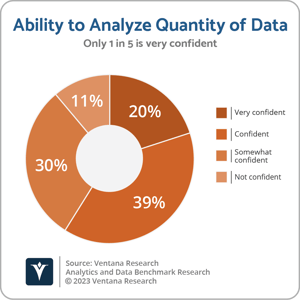 Informatica. SnapLogic's focus from the beginning has been to simplify and accelerate data integration, facilitating the flow of business data to make it available on demand to business decision-makers. The company's SnapLogic Intelligent Integration Platform provides a low-code/no-code approach to integrating data from multiple applications and business systems using pre-built connectors and functionality in three key areas: data automation and integration, application integration and application programming interface management and development. SnapLogic's ongoing focus on simplification is reflected in increasing use of artificial intelligence to accelerate mundane integration tasks through automation and recommendations. The company is also targeting its functionality to people in core business roles as well as data management and integration professionals.
SnapLogic has three sales approaches for its Intelligent Integration Platform: enterprise (organizations with more than 1,000 workers), commercial (less than 1,000 workers) and original equipment management opportunities via the SnapLogic Embedded Program. The company has established an impressive roster of customers including Adobe, Box, Caterpillar, NBC Universal, Sony, Verizon, WD-40 Company and Workday. SnapLogic has also accumulated the backing of investors including Andreessen Horowitz, Arrowroot Capital, Capital One, Golub Capital, Ignition Partners, Microsoft and Vitruvian. In the most recent funding round, the company raised $165 million in December 2021 in a round led by Sixth Street Growth that valued SnapLogic at over $1 billion.
SnapLogic's differentiation is built on the concept of Snaps, which are pre-built connectors for popular data sources — including data platforms and applications — as well as analytics tools for business intelligence and data science. The SnapLogic Intelligent Integration Platform is an integration platform as a service offering that provides more than 600 Snaps as well as pre-built integration templates that can be assembled using the product's no-code/low-code interface to create data integration pipelines and workflows. These are used to integrate, aggregate and transform data from multiple applications and data platforms, and make the results available to operational applications and analytics tools. The platform provides functionality for application integration, data automation and integration and API management and development as well as underlying capabilities for security and compliance. It provides parallel processing of JSON- and REST-based documents to support real-time streaming for application and business process integration as well as batch-based data integration and aggregation into data warehouses and data lakes.
A key element of the SnapLogic Intelligent Integration Platform architecture is the separation of the control plane from the data plane. The cloud-based control plane is used to manage where and how data is processed, while the data plane is the data integration runtime, known as Snaplex, that performs the actual data processing. One or more Snaplex instances are deployed as required to process data according to the pipelines and workflows designed by the user. Snaplex instances running inside SnapLogic's own integrated platform are known as a Cloudplex. Snaplex instances deployed in a customer's private or virtual private data centers are called a Groundplex, and are also managed remotely by SnapLogic.
While data integration has traditionally been the purview of data management professionals, SnapLogic's approach has always been to encourage self-service use by business professionals. The company offers automated workflows targeted at users in key business functions such as finance and accounting, marketing, sales and human resources. The company also continues to target IT professionals, empowering technical teams to enable self-service use by business users while maintaining control over governance and security.
SnapLogic increasingly utilizes artificial intelligence to automate repetitive development tasks, accelerate data integration and improve user productivity. The company's Iris AI technology includes the SnapLogic Integration Assistant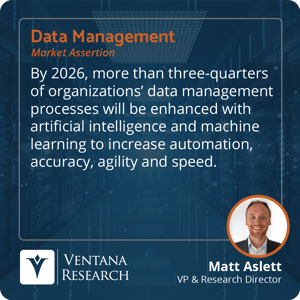 recommendation engine, which uses machine learning to predict the next step in building a data pipeline. Self-driving integration capabilities utilize machine learning algorithms trained on SnapLogic's corpus of data on integration projects to accelerate functions such as endpoint discovery and configuration, field linking, pipeline debugging and Snaplex resource management. I assert that by 2026, more than three-quarters of organizations' data management processes will be enhanced with artificial intelligence and machine learning to increase automation, accuracy, agility and speed.
SnapLogic is a well-established and trusted provider of data integration and application integration functionality. It's capabilities for API management and development are probably a less well-known but important aspect of the company's overall value proposition of helping customers have a platform for application, data and process integration as well as the delivery of data services. I recommend that organizations exploring approaches to updating, accelerating and simplifying data integration include SnapLogic in the evaluations.
Regards,
Matt Aslett