Organizations require faster analytics to continuously improve business operations and stay competitive in today's market. However, many struggle with slow analytics due to a variety of factors such as slow databases, insufficient data storage capacity, poor data quality, lack of proper data cleansing and inadequate IT infrastructure. Challenges such as data silos can also decrease operational efficiency. And as the data grows, performing complex data modelling becomes challenging for users as they spend more time managing data rather than identifying insights.
Traditional disk-based databases are also typically slower than more advanced databases designed to take advantage of memory to deliver high-performance queries, especially at scale. The ability to support sub-second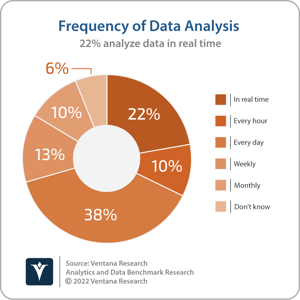 query response times is increasingly important as organizations strive to deliver data-driven decision-making. Ventana Research's Analytics and Data Benchmark Research shows that only 22% of organizations are analyzing data in real time. Exasol, an analytic data platform company, offers an in-memory database that can be used as a standalone data warehouse or to unify data from multiple analytic data platforms. This enables organizations to accelerate analytics and business intelligence. It offers an open architecture, allowing organizations to analyze large volumes of data in real time.
Exasol was founded in Germany in 2000 to develop an in-memory, columnar database software specifically for analytics. Developed as a parallel system based on a shared-nothing architecture, it enables organizations to distribute queries across various nodes in a cluster using optimized and parallel algorithms to process data locally. Exasol offers support for various languages, including R, Python, Java and Lua. It allows users to integrate preferred analytics programming languages for in-database analytics.
Last year, Exasol announced the availability of its analytics database through a software-as-a-service model on Amazon Web Services. The cloud platform provides environments for specific use cases to meet both analytics and complex artificial intelligence and machine learning requirements. It offers support for various data types and formats — JSON, Geospatial, full-text search, relational, key-value and time series. Exasol SaaS is available in two versions: The Exasol SaaS Standard Edition offers its platform on-demand for organizations with smaller data volumes that don't require advanced analytics. The Exasol SaaS Enterprise Edition is designed for organizations that require multi-departmental analytics environments, need to perform AI/ML in the database or have complex requirements for data integration and data virtualization. Exasol offers a standard interface that includes ODBC, JDBC and ADO.NET. Users can integrate Exasol with several business intelligence and data integration tools from various leading vendors, such as Informatica, Talend, Pentaho, Tableau, SAP Business Objects, IBM Cognos and MicroStrategy. Users can also connect to Exasol using SQL clients such as DbVisualizer and DBeaver.
Exasol recently appointed Joerg Tewes as chief executive officer and targets various industries, including financial services and insurance, retail, e-commerce and healthcare. Its customers include various large-scale organizations such as Dell, Sony Music, Dailymotion and Adidas. The company's shares have been traded on the Frankfurt Stock Exchange since its initial public offering in May 2020. It had 223 customers at the end of its third quarter of 2022, during which its revenue grew by 38.1% to 8.7 million euros ($9 million). The company is operating in a crowded market, and although it is growing, it has not been able to make a substantial competitive impact, especially in North America. According to its financial statement for the first half of 2022, it generated 68% of its revenue from Germany, Austria and Switzerland, and only 13% from North America.
The company's product was initially positioned as a standalone data warehouse, comparable to other specialist analytic data platform providers. However, Exasol is increasingly positioned as a complement to an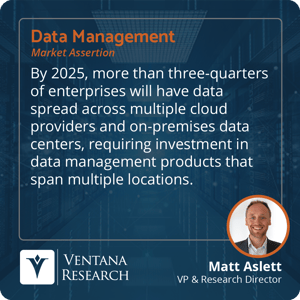 existing data warehouse, either for BI acceleration or to unify data from multiple analytic data platforms. Queries are automatically distributed across all nodes in a cluster, providing linear scalability for more users and advanced analytics. Exasol's Virtual Schemas abstraction layer enables users to use SQL commands to access data from external resources — both on-premises and in the cloud — in real time, with or without extract, transform and load processing. This is likely to become an increasingly attractive feature. I assert that by 2025, more than three-quarters of enterprises will have data spread across multiple cloud providers and on-premises data centers, requiring investment in data management products that span multiple locations.
Exasol also enables users to solve complex analytics challenges such as predictive analytics by bringing AI/ML algorithms directly to the data. It allows analysts to access objects from external sources without migrating the data.
While the company's product has differentiating capabilities, it needs to raise its profile and highlight its unique value proposition. The company's OEM relationship with Yellowfin may help with that, as Exasol positions itself in an increasingly crowded market as a complement to existing databases — both on-premises and in the cloud — for BI acceleration and data unification. Exasol's virtual schemas functionality enables it to coexist with a variety of databases and analyze data across hybrid and multi-cloud architecture.
Organizations that are scaling and looking to improve performance of the current data stack and give reporting speeds a boost to enable real-time, self-service BI should consider Exasol. It supports several BI tools in the market and enables organizations to analyze big data and provide insights in real time. It can be deployed as a service, in the cloud (ExaCloud, Microsoft Azure, Amazon Web Services and Google Cloud Platform), on-premises or in hybrid environments.
Regards,
Matt Aslett